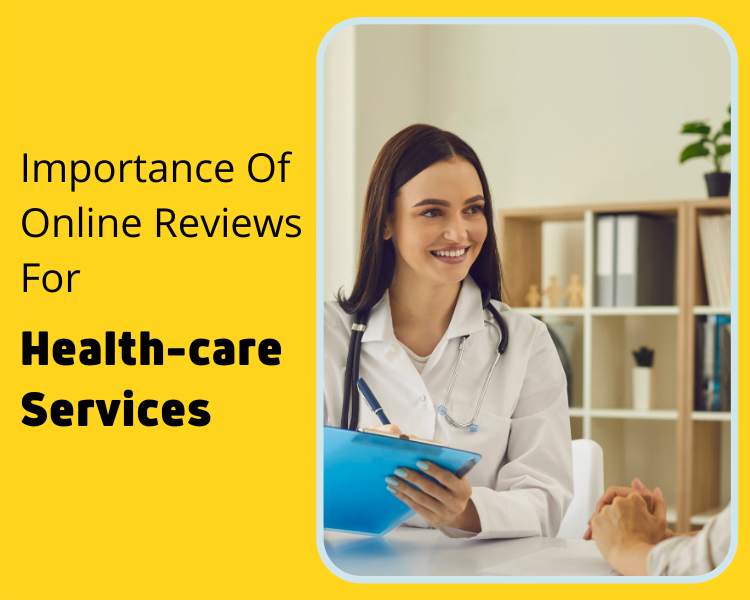 How Health-care Services Drives Massive Patient Acquisition Using Online Review Management?
What do customers look for before purchasing a product/ service online? Is it a brand? Is it prices? The answer is "no." So, what is it? Online Reviews. Many top-tier brands believe that they don't need it. This is especially the case with health providers who feel that their services are enough to drive patient acquisition. Contrary to that assumption, more than 81% of patients check online reviews before choosing any healthcare provider.
Whether you believe it or not, online reviews can make or break new patient acquisitions. Why is it so? This is because these reviews help customers or patients understand your patient care level and whether you can be helpful in their times of distress. It won't be wrong to say that a healthcare business with a robust online reputation can help curb any anxious patient whether they can trust their care.
Does the whole proposition sound vague? Let's understand it better using statistics, challenges, and how online reputation can act as one of the best tools for patient acquisition.
Statistics Show The Importance Of Online Reviews Management.
According to Deloitte, more than 50% of respondents confirmed that they were likely to use a tool to look up quality ratings for specific doctors or hospitals. The Decision-making process for selecting new healthcare providers relies on what other patients are saying about them or their practices online.
According to another survey, more than 90% of healthcare patients use online reviews as a method to evaluate providers.
As per the data shared by Inc., more than 80% of consumers trust online reviews just like personal recommendations.
It takes around 1-6 online reviews to form an opinion about your practice. A single bad review can deter your prospective patients.
Around 43% of Millennials are likely to switch to different providers in the coming years based on the experiences shared by the customers.
It is clear that online reputation matters a lot when people switch to digital means before connecting with a provider.
Challenges Faced By Healthcare Providers Concerning Online Reputation Management
Difficulty taking positive reviews about their services:
With every passing year, patients rely on reviews to figure out whether the provider is worthy of their time. But the issue with online reviews is that happy people aren't likely to share them online. They are more likely to be just happy about it. And if you think about financial incentives, you might risk your reputation again with people saying they paid for posting the review.
Getting honest feedback after you are happy makes it quite challenging for the providers. Also, businesses lack a process of actually asking for reviews. Out of 100, only 20 write a review, which would be only if they were unhappy about the process. There's more.
Wrong information on online directories are confusing patients:
According to Pew Research Center, More than 80% of internet users look for health information, and nearly half are looking for information about a specific doctor. This means patients rely a lot on online directories for accurate information.
However, not all healthcare providers can maintain their online listings. Thus, it results in inaccurate or incomplete listings, which results in frustrating prospective patients.
The healthcare providers focused only on other means for organization reputation:
A survey found that the healthcare industry focuses on HCAHPS scores to manage its reputation until today. The Center of Medicare and Medicaid Services uses these scores to determine patient satisfaction levels.
But, this is far from adequate in capturing the overall patient experience. Also, with such fierce competition, the healthcare industry is turning into a consumer industry like retail and banking. So, relying on internal surveys won't matter to the customers looking for you online.
So, what next?
Presenting Solutions To Boost Online Presence And Manage Online Reviews
Leverage online ratings and reviews by fixing your online presence:
If you give much significance to the online reviews, a healthcare provider can easily attract more patients. And more positive reviews can help you increase revenue since you have the proof to convince that you give patient care a lot of importance. This is why you need to fix your online presence. It means that you need to claim profiles in local directories.
This will help your patients access information without any need to visit your website. You need to use Google's local directory like GMB, Yelp, and other directories to boost your online presence while enabling customers to post their experiences.
Build your social media presence and keep an eye on what people are talking about you:
With more than 50% of customers using social media to research new businesses and providers, having social media is essential. You must have an account on different social media platforms like Facebook, LinkedIn, Instagram, Twitter, and so on. However, don't just leave it there. You must know what people are talking about your brand and its services. Don't forget that people recommend products and services online through social media channels. Online reputation management by timely responding to negative reviews will help you mend your relationships sooner.
Understanding patient's perception through online reviews:
The interests and well-being of your online reputation management aren't just about how patients view or recognize your brand. If you use it correctly, it will help you grow your reputation. Active participation by listening to their online reviews and responding to them will help you gather valuable insights. This will help you strengthen your operations or make necessary changes to improve the patient's overall comfort. Hence, it will build your reputation since people want to listen to their woes, not just smiles.
Update information wherever necessary:
Having an online presence won't solve your issues if you're not providing accurate information. In the case of any shift in availability hours, deals, offers, or place, if you don't update it from time to time, it will only cause frustration for patients looking for similar healthcare services online. This is why you must maintain the information on all channels for an impeccable user experience.
Clearly, it takes a lot of time to screen your online presence regularly. Since you can't manage everything yourself, you need reliable digital transformation professionals to ensure your online reputation management.
But how will they be helpful?
How Does Online Reputation Management Service Providers Help With Patient Acquisition?
Reputation firms use SEO to search the topics related to your business and how patients are more likely to find you. If any negative comment appears in search results, the company will include positive content to counter that harmful content.
To rank higher on search engines, you need to build a good reputation along with high-quality content. The management survival providers will work to create material to target customers to find positive results about your company.
Whether you are on Twitter, Instagram, or Facebook, a single click can become a PR nightmare. The reputation management providers will screen your social media profiles and help you control the data by strategizing posts.
They help you acquire and manage online reviews. They will employ tactics to encourage your patients to write reviews. When people start writing good reviews, it will automatically promote your brand and allow you to rectify your negative comments or situation.
They will also conduct a competitive analysis. This will help them know where your competitors are ranking for the keywords and what you need to improve your online presence.
Are you looking for comprehensive online reputation management services, unifying your online presence?