The Complete Guide to Advertise Your Business on Instagram (Audience, Goals & Ads)
Instagram is a popular social media platform with over 900 million active users. It's used by businesses of all sizes to promote their products and services. Over 200 million Instagrammers visit at least one business profile per day.
According to Hootsuite, Instagram ads have the potential to reach 849.3 million users. Similar to Facebook , Instagram provides a number of advertising options to help you reach your target audience and drive sales.




In this article, we will explain how to use Instagram for business advertising.We will go through how to set up an Instagram business account, how to connect Instagram page with Meta (FB) business manager, how to choose the best advertising goal, what audience options are available and how much Instagram ads cost etc. Keep reading.
Let's begin!

Easy Steps to Start Advertising on Instagram
To connect your Instagram account to Meta Business Manager, you must first register an Instagram business account. There is no specific Instagram ads manager, you need to manage your ads through Meta (Facebook) business manager.

How to Create Instagram Professional Account:
Create an Instagram professional account or switch to a professional account If you already have a personal Instagram account. To do this, go to your Instagram account and select "Switch to Professional Account" in the drop down menu at the top of your profile. Once you switch to a business profile, you'll be able to customize your profile to include more information about your business and track important information about your account like the number of views, likes, comments, and followers.



Create Meta (Facebook) business manager account If you already have a Facebook page for your business, you can easily integrate your Facebook and Instagram accounts by creating a business manager account. This will allow you to run ads on both platforms using a single set of advertiser credentials and manage campaigns more efficiently. 

To set up your business manager account, go to your facebook business page and click on meta business suite in the left menu bar. After setting up a Meta business account, go to the business settings, where you can add your Instagram account, people role, and ad campaign settings.

How to Add an Instagram account to Your Meta Business Manager
To add an Instagram account in your business manager, here are the following steps:
Go to Business settings

Click Accounts

Click Instagram accounts

Click the blue Add button

Click Connect your Instagram account
Enter your Instagram username and password. (Note: You will get a security code to the email address or phone number associated with the account to verify your identity.)

You'll have the option to select the ad accounts and Pages that you'd like to add on the next screen. Click Finish. You can also click the X to skip this step.

After completing all the steps, you will see your instagram account in Meta Business settings like below:


Go to the ads manager from the advertising section after adding an Instagram account to start creating your first Instagram ad campaign.


How to Plan Instagram Ads Marketing Goal/Objective:
Finalize your marketing objectives before creating any ad campaigns. You'll need to define your marketing objectives and decide what you want to achieve with your ad campaigns. 

Marketing objectives will help you to choose the right format of an ad to run, call to actions and budget for the campaign. 

For example, if you're looking to drive traffic to your website, you might want to run a campaign that focuses on driving clicks to your website rather than increasing brand awareness.

Here is a list of the marketing goals you can select when setting up an Instagram paid advertisement:
Awareness
Consideration:
Traffic

Engagement

App Installs

Video Views

Lead Generation
Conversion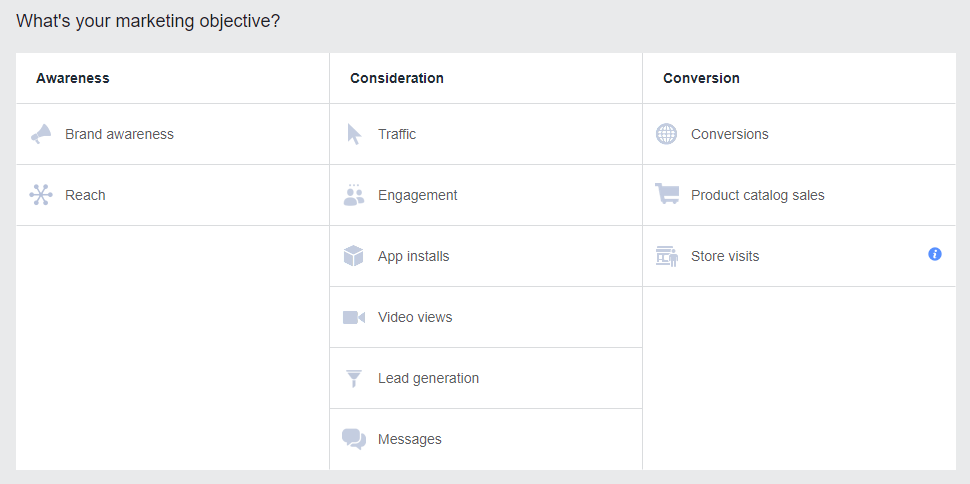 Instagram ads have eight primary objectives: brand awareness, reach, traffic, app installs, engagement, video views, lead generation, conversions. Let's explore each marketing goal to determine when and how to apply it.

Brand Awareness:
You should choose this marketing objective if you want to increase brand awareness and visibility. Your target audience will learn more about your business and the products or services you offer.This objective will help you to target your potential customers and drive new users to your Instagram page.

Reach:
Use this marketing objective when you want to reach as many people as possible with your ads. This objective is ideal for businesses that want to expand their reach. This is the most commonly used objective for 'Story' ad.


Traffic:
This goal can be used to generate targeted traffic to a website, either on or off Instagram. When you want more app installs, website clicks, or product orders etc you can use this objective. The only thing you need to provide is the destination URL where you want to drive traffic.

App Installs:
By sending more people to your app store listing, this goal is meant to improve engagement with your mobile app and encourage more people to download it. Businesses who want to increase app downloads need to use this objective.

Engagement:
When you want more likes, shares, and followers, this is the appropriate goal. It encourages users to engage with your posts and explore your Instagram page. This goal is perfect for businesses who want to grow their loyal audience, content reach and attract new followers.

Video Views:
When you want to increase video views and promote your video content to more people, use this objective. This goal is appropriate when you want to use video content to promote your brand. 

Lead generation:
When your goal is to generate leads from your paid ads, this objective is the most relevant. Your lead form can have fields for name, email, phone number, and gender. Although Instagram doesn't have as many lead form options as Facebook, you will still get quality leads if you target the right audience.
Conversions:
Use this goal if you want people who see your Instagram ad to complete a certain action, such as making a purchase on your website or downloading your mobile app. In order to track conversions, you must configure pixel code to your website and event tracking to your mobile apps.

How to Choose Right Target Audience for Instagram Ads:
You are now familiar with marketing objectives. The next step is to create an audience. Prior to creating an audience for paid advertising, it is always advised that you have a general understanding of your target audience. Just the right target audience will make paid advertising successful. Otherwise, selecting the wrong audience can cost you a lot of money.

We'll go through every detail so you can understand it with ease, and we've included some examples as well. 

Let's get started!
Location: –
What matters most is where you want to show your ads. You can set it up to target your ads depending on geography by choosing a city, a region, a zip code, or the entire country. Instagram will show you the demographic details of the audience accordingly.

Example 1: You would want to target your ads to potential customers in Toronto, Canada. So the location section would be set to Toronto, Canada. 

Example 2: You want to target your ads to the entire US audience and so you will set the location to the United States. If you want to exclude any specific region,city or zip code you have options to exclude it.
Age:
You can choose age on Instagram ranging from 13 to 65+.

Gender:
 There are options to choose all, men or women. 

Example 1: You would like to target people between the ages of 22 years and 35 years who are women. 
Detailed Targeting: There are three options to target your audience:
Demographics

Interests

Behaviours
Demographic:
The demographic information that you can choose from includes education, income, family size, and occupation. So depending on the product or services you sell, you can market it to people with certain demographic details like those who are interested in luxury goods and who have higher earnings or more people in their family and professionals who work in a specific field etc. 


Example : You want to sell high-end beauty products so you would want to target people who have a high income and own expensive cars. So you would choose the people with high income, high car ownership and who love cosmetics as your target audience for your ad.

Interest:
You can pick deep subcategories to target relevant interest types. You can choose the audience based on their interests in various topics, such as fashion, food, traveling, hobbies, etc. You can choose a broad category, like fitness & wellness, or you can further narrow by choosing a specific interest, like yoga.

Example: To sell Yoga products, You would select  fitness & wellness as your broad category and select yoga as target interest. So all the people in your selected category and with interest in yoga will be shown as the targeted audience for your ad.
Behaviour:
Based on the behaviour such as device usage pattern, interaction with other websites and apps, you can choose to display your ads to people with particular behaviour and demographics.

Example : You need to promote your android app to people who use Android devices.You would set the behaviour category to smartphone and set Android platform as the technology type. All the Android users will be shown as the target audience for your ad.
Custom Audience:
You can upload your own list of email addresses for users who have previously downloaded your app, signed up for your newsletter, or are ready to convert or upsell. You are able to advertise to them when they are on Instagram. For your paid campaigns, you can use data from a variety of custom audience sources. Here is the list:
Lookalike Audience:
This option is very useful especially when your custom audience data is relevant. You can upload a list of customers who are already converted as a custom audience and create a lookalike audience. This will allow Instagram to find people who have similar interests to your uploaded audience data.


When you set a lookalike audience, use a lower percentage. If you select 1 percent, for example, the people you target will include those who resemble your lookalike source the most. Your audience size will increase as you increase the percentage.The bigger the audience size, the less precise the matching details are.

On the right side of the screen, you will see AI-powered insights on audience size, potential reach, and expected daily results when you set up your audience in the ads manager. Use these insights when you create your ads to evaluate whether your audience selection is good or needs to be changed. According to the goals you've chosen, such as reach, leads, or conversion, it displays estimated results. 
Connections:
You can target people who are connected to your page, app or event etc.

Now detailed targeting work is done. So let's move forward to Ads placement. This is a crucial step in creating your instagram ads campaign.

How to Choose Right Ads Placement for Instagram ads
By default, Meta ads manager show ads on both Facebook and Instagram platforms. So when you are setting up ads for instagram, it's important to choose manual placements.


When you are setting up ads for Instagram platform, Use at least 6 placements options.

Using fewer than six placements may increase cost per result. If you use both Facebook and Instagram, you don't need to take any action.However, you have to make sure that you are using at least 6 placements for Instagram ads. This enables the delivery system to allocate your budget where it's likely to perform best.


Choose Your Placements:
You can choose where you would like to show your ads on Instagram. You can display ads in Instagram feed, story or on Instagram's ad network.

Example 1: You want to run a campaign to promote your product on an Instagram news feed and promote it using Instagram stories as well. You can choose to run the ad in both feed and stories formats. When you create the ad, you would then select the placement options as shown in the image below.
How to Set Instagram Ads Budget:
Here you can set your budget for your instagram ads. You can use either the daily budget option or the lifetime budget.

Example:  You would like to run an ad campaign for 38 days with a budget of $20 per day. You would set the start and end date of the campaign as shown below in the screenshot. Then you can set your daily budget for the campaign and click on continue.


How to Schedule Instagram Ad:
You can run ads all the time. Or if you want to control when an ad will be displayed, you can manually set the best time to run your ads by using the ad scheduling feature as displayed below. There are two choices: use this ad account's time zone, or use the viewer's time zone. Choose the viewer's time zone to prevent any mistakes.
How to Create Your Instagram ad:
Now you've set up your audience, placements and budget, it's time to create your ad. Before creating the ad, we would recommend that you research about the best practices of creating effective ads on Instagram. You can use tools like canva  to create attractive ads which can be more appealing to your target audience. You can also add a video or photos to create a high-impact ad. Once you are ready with your ad content, it's time to create an Instagram ad.

Go to Create ad> Choose Your Business Page and Start setting up an ad.

How to Choose Instagram Ads Format
When You set up an Ad, it's very important to know what ad formats are allowed in Instagram advertising.Your ad's appearance will depend on the format that you select (single image, video or carousel), and whether the ad is seen in Instagram Stories or feed:

Let's discuss all ads formats available in Instagram ads accounts.
Images:
If you use a single image in your Instagram ad, your image may appear in the square, landscape or vertical format.

Videos:
If you use video creative in your Instagram ad, your video may appear in the square or landscape format (except for in Instagram Stories).

Carousel:
If you use the carousel format as the creative for your Instagram ad, your ad will appear in the square format or vertical format on feed and stories.

Instagram Shop:
Your ad must be in the single-image, carousel or collection format. Although we support all ratios, ads will all appear as square 1:1 images and be tappable to your website's product details page.

Instagram Stories:
While we recommend that you use a full-screen vertical asset in Stories ads, this format can support the same media you use in other placements. Stories ads can support feed placement photo and video dimensions, meaning you can upload a single photo or up to a 120-second video that have an aspect ratio of 9:16 and 16:9 to 4:5.

Reels:
You can only use a full-screen vertical asset for Reels ads.

When creating your Instagram ads in Meta Ads Manager, you can preview them to see how they will look on Instagram.
What are Supporting Objectives and CTAs for Instagram Ads
Supported objectives and call to action buttons may vary depending on the ad format you are using.

#1 Image Feed Ads
Supported Objectives
Reach

Traffic

Conversions

App Installs

Lead Generation

Brand Awareness

Post Engagement

Product Catalog Sales

Store Visits
Supported Call-to-Action Buttons
Apply Now

Book Now

Call Now

Contact Us

Get Directions

Learn More

Get Showtimes

Download
#2. Image Story Ads
Supported Objectives
Reach

Traffic

Conversions

App Installs

Lead Generation
Supported Call-to-Action Buttons
Apply Now

Book Now

Contact Us

Download
#3. Video Feed Ads
Supported Objectives
Reach

Traffic

Conversions

Lead Generation

Brand Awareness

Post Engagement

Store Visits
Supported Call-to-Action Buttons
Apply Now

Book Now

Call Now

Contact Us

Download
#4. Video Story Ads
Supported Objectives

Reach

Traffic

Conversions

Lead Generation

App Installs

Supported Call-to-Action Buttons

Apply Now

Book Now

Call Now

Contact Us

Download

#5. Carousel Feed Ads Supported Objectives

Reach

Traffic

Conversions

Brand Awareness

Lead Generation

Product Catalog Sales

Supported Call-to-Action Buttons

Apply Now

Book Now

Contact Us

Call Now

Download

#6. Canvas Story Ads Supported Objectives

Reach

Brand Awareness

Traffic

Conversions

Lead Generation

Post Engagement

Video Views

Store Visits

Supported Call-to-Action Buttons

Apply Now

Book Now

Contact Us
It might take a few hours for the ad to start showing on Instagram depending on your daily budget and ad schedule but you will see an "ad is live" notification once it is ready. You can see the ad by clicking on the insights icon at the top of the page and then clicking on the ads tab to view all the ads you have running on your Instagram account. Detailed insights you can see in the meta business account.


How much do Instagram Ads Cost:
There is no single answer to this question because it depends on a number of factors such as your target audience, the type of ad formats you choose, your competition, and your geographic region. Instagram charges models are; CPC (Cost per click) and CPM (Cost per impression) which you can choose as per the marketing objective.

As per research by SocialBakers, the average cost per click on Instagram for brand advertisers was $0.53 in February 2018. The price also varies for different demographics based on their interests and demographics. In some cases, advertisers report paying as little as $0.01 for a click on Instagram ads whereas in other cases they pay as much as $5 or more per click. 


Cost may vary due to latest updates from Apple (to advertise on iphone) and increasing competition among advertisers. Each advertiser has their set of goals and depending on the type of goals you are trying to achieve, you will need to allocate a budget accordingly. 

A high CTR is always a major contributor to lower paid costs. So be creative with your ads and pay attention to every detail, such as the colour of the ads and the text and headings and CTAs, etc. Monitoring ad performance frequently and testing as much as you can to find the optimal version of the ads, audience, placements, call to action buttons, etc. is another way to keep advertising costs down.

If you are just getting started with Instagram ads, we would recommend that you start with around $10 a day on your budget and monitor your results closely to understand the effectiveness of the campaign and identify areas for improvement. Then, you can increase the budget as your Instagram ad campaign starts performing as per the set objective. 

Wrap up
Choosing the right audience, creating effective ads, and finding the proper placements require a thorough understanding of your industry and your target audience. You can start Instagram ads flawlessly if one of your team members has actual experience in the marketing industry. Paid advertising has a mixed record of success and financial failure. Consequently, a marketing expert should oversee it.

Feel free to contact our paid marketing experts if you need help creating an Instagram ads account or getting a comprehensive analysis of an existing one.

Click here to check Pinterest marketing guide & YouTube marketing Guide.